Get 50% Off A Website: Easter Promo
Tell us a little bit, and save your spot!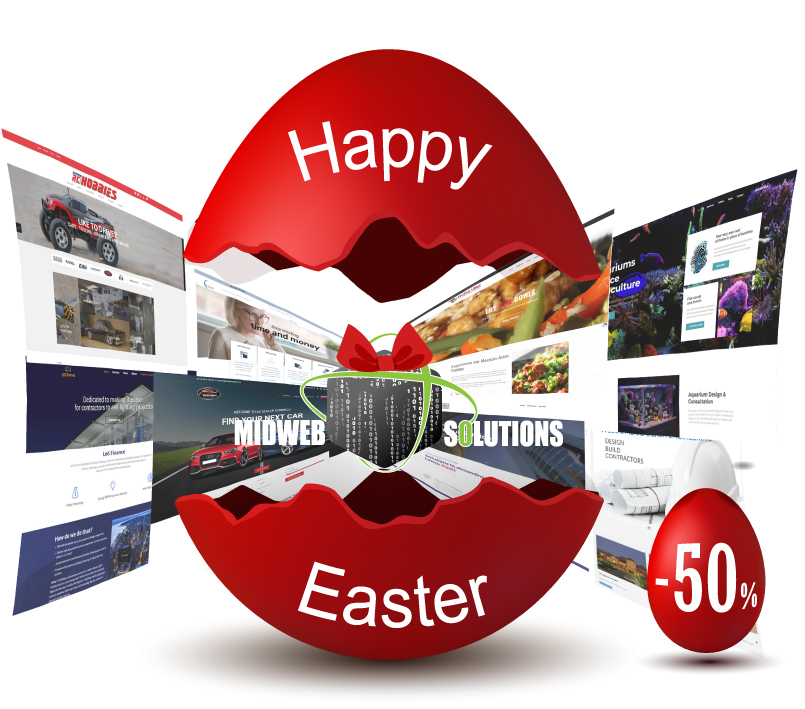 Sell Products
Selling online can be tricky, but we've got the tools and the experience. Our premium and dedicated services have been instrumental in boosting sales by 40% for some of our clients! And, we've since blue printed key elements in that process, so that we get you selling online even faster!
Advertise
Whether you're a small business, or a corporate giant, your presence on the web is a key component to your success in the digital age. We will work with you to create the image that speaks to your business and needs. Utilizing pre-built technologies, we can get you up and running fast and with minimal cost.
We Partner
Running a business involves many moving targets, and it can be a daunting task managing all the nuts and bolts. Midweb Solutions has partnerships with business owners and companies looking to out-source the tasks of updating and maintaining their online presence, allowing them the ability to recapture valuable time to focus on their businesses.
What Our Clients Say About Our Web Design Services
Midweb Solutions has been fantastic to work with. They helped me go from an idea to a webpage faster than I could have ever expected. They are professional, fast and truly care about their customers. They exceeded my expectations at every step. If you need a website built, a security review or a refresh of what you currently have, You could not make a better decision than to choose Midweb Solutions! Thanks guys!!!!
- Chris W -
I'm so glad I was referred to you because I just about had it with our old shopping cart. I appreciate how the process was laid out clearly and the project was completed on time and on budget! Can't say enough about the attention to the details, and also the help with the logo design. You guys are awesome!
- John S -
The team did a great job delivering above expectations. The logo came out great, and the company site says exactly who we are. Thanks again for the professionalism and expertise! Excellent service, very professional and responsive.
- James R -
derekengineeringaz.com
Awesome group. Midweb Solutions has kept my business SEO high. The customer service is great and they often initiate contact to ensure that I am happy with their work. I highly recommend Midweb solutions!
- Pam N -
orthosportstherapy.com
Really appreciate Midweb's attention to detail and conscientiousness to meet deadlines. Thanks for delivering a flawless launch of my real estate site!
- Garth J -
MIDWEB SOLUTIONS did an amazing job on our company website, I have work with other web developers in the past and never received the level of professionalism and customer service that I did with MIDWEB!
- Billy M -
jointbusinesssolutions.com